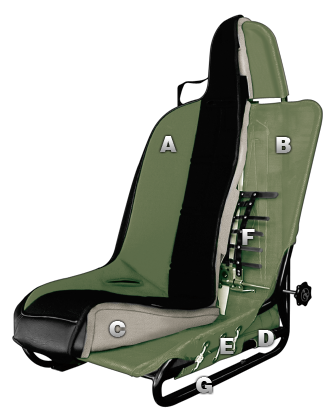 ANATOMY
A• The Upholstery of the MasterCraft seat is made from specification 1000 Denier Cordura. Slots for restraint system are standard.

B • Our one-piece suspension liner is made of nylon-coated Phifertex mesh. This provides a comfortable ride along with extreme strength and durability. The porous mesh has the ability to breathe, as well as allowing moisture to pass through.

C • Superior quality polyurethane foam of different thickness and density is laminated to the liner to create the shape and feel.

D • MasterCraft seats feature double Pirelli straps for additional comfort and support. At all stress points the liner is double lapped and grommeted for maximum strength. It is attached tot he frame with mil-spec nylon cord.

E • Seat may be ordered with optional mechanical lumbar support. Fitted to the frame, it offers 3 inches of infinitely adjustable lumbar support and left or right adjustment knob.

F • Standard MasterCraft seat starts with mild steel tubing (.065 wall HREW 1010). The tubing is precision formed using numerical control rotary drawn process., fixtured and mig welded. Other materials available.